Regular price
$467.00 USD
Regular price
Sale price
$467.00 USD
Unit price
per
Sale
Sold out
Share
Our fabulous handmand Story of Mayo Cross is an original Blacoe design that celebrates the history, culture and community of County Mayo. With Seven icons that highlight how much we love the county. They are;
 
The Mayo County Coat of Arms is renowned all over the world, as Mayo emigrants reach all parts of the globe and hold their County emblem close to their hearts. The Coat of Arms also represents the sporting traditions of Mayo. Our County teams in the various minor and senior GAA championships wear the Coat of Arms on their jerseys with pride.
Croagh Patrick is one of the most distinguishing features of the Mayo countryside. Named after our patron Saint, many pilgrims, both young and old, make the long journey to Croagh Patrick to climb to its summit on the last Sunday of every July, as it is believed that Saint Patrick frequently came here to enjoy the peace and tranquillity.
The Currach reflects the way of life of thousands of fishermen in Mayo. Undeterred by the unpredictable weather, the fishermen brave the erratic sea daily in these small boats. The fishing industry has fed and supplied a living to generations of Mayo people and is still a major contributor to both our local economy and the economy of Ireland.
The Knock Emblem represents the importance of the little town of Knock as it too has contributed enormously, both religiously and economically, to the development of Mayo. Since the apparition in 1879, Knock has ranked as one of the world's major Marian shrines and enjoyed an historic visit from the Pope in 1979. Knock is also noteworthy for its International Airport, which has opened up Mayo to the world and has brought much industrial development to the area.
The Yew Tree: Mayo means "Plain of the Yew Trees" and these trees are detailed on the Mayo crest. On the Blacoe ring, the Yew tree also symbolises the wild but beautiful natural growth of the Mayo countryside and its contribution to ensuring that Mayo is one of the most appealing and unspoiled Counties in Ireland.
​Granuaile, or Grace O'Malley, is one of the most remarkable women in the history of Mayo. Born in 1530, Granuaile was the daughter of the Chieftain of the O'Malley clan who ruled the kingdom of Umhall on the West coast of Mayo.  Granuaile aggressively defended and maintained her family fortunes through both legitimate trade and piracy on the Atlantic waters. With residences on Clare Island, Achill Island, Westport and Carraigahowley on Clew Bay, her influence and reputation was far-reaching throughout not only Mayo but also throughout Europe.
The Waves: The Waves remind us of the power of nature that surrounds the lengthy Mayo coastline and the special relationship Mayo people have with the sea. The sea has sustained and nourished the people of Mayo and in days gone by was the only link with traders and visitors from other countries.​
Cross Dimensions Large 3cm x 2cm

View full details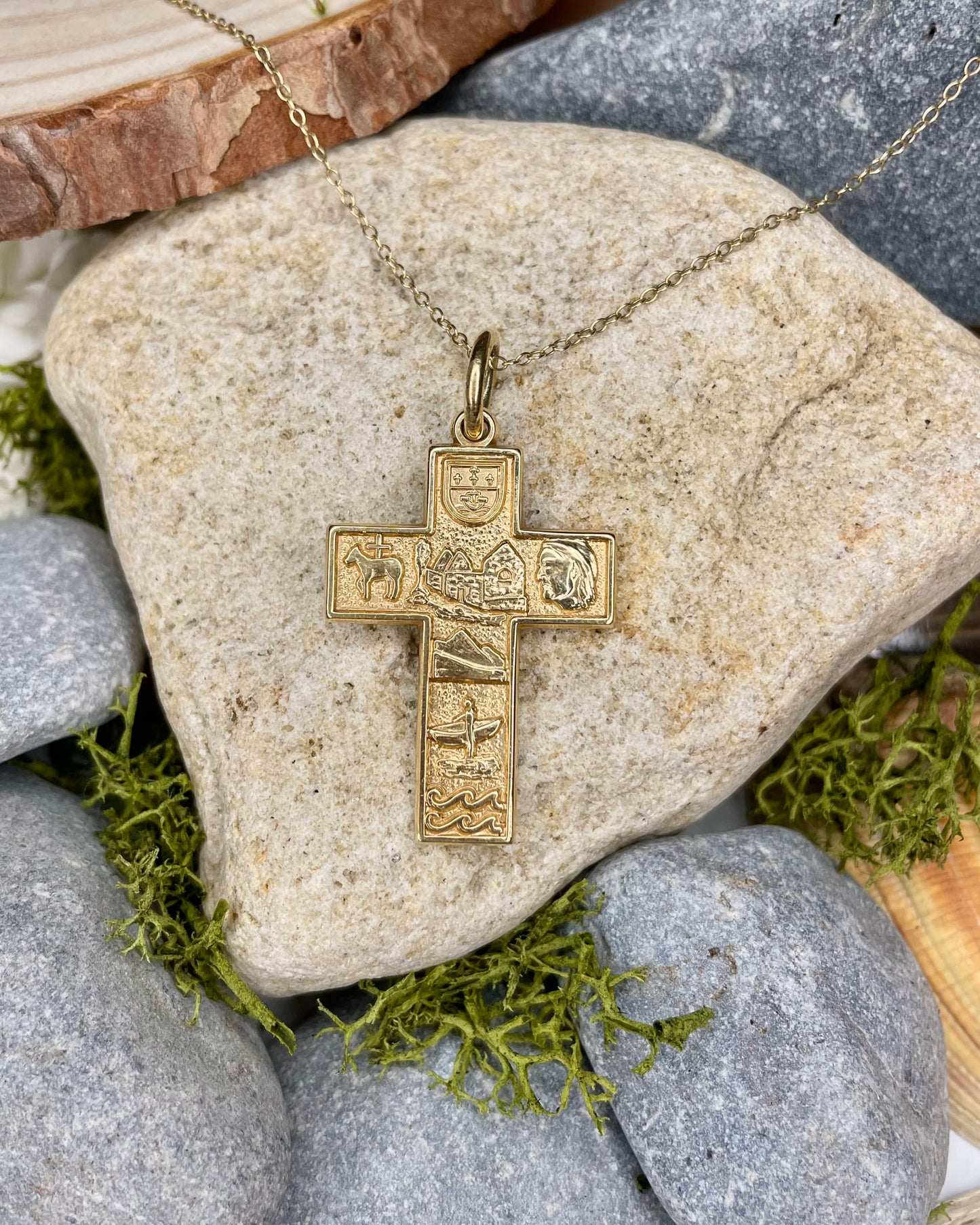 Shipping

We have secure trackable shipping worldwide! Free shipping for over €100